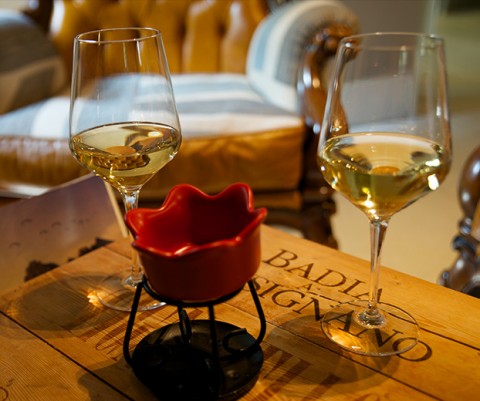 Our story

Antonella Avogaro and Martino Ghiotto created in Soave Damaranto, a smart abode offering top quality cuisine and high level rooms. The hotel facilities are located in the centre of the town, in a building dated from the 19th Century, where you can find the sort of hospitality you are looking for: understated elegance, search for good taste, polite and friendly people.

You will stay in rooms that have lived the culture of intellectual families two centuries long, full of books and tasteful objects. Now Antonella and Martino aim at proposing once again the culture of welcoming and fine dining and you will dream of a magic world, looking at the Soave Castle and its legends. You will be deep absorbed in history and will enjoy the products of a rich and genuine land. Even if you are far away from your home, here you will find the atmosphere of your home again.

In just a few minutes you'll reach all the most historical sites of Soave and visit not only the town of Verona but also Vicenza, Padua and Venice. The Garda Lake is only 50 km far away. You'll also have the chance to visit some of the most famous wineshops of the area and buy their typical products.

The town of Soave received the orange flag by the Touring Club Italiano, the most famous Italian tourist association, which publishes information about the most beautiful opportunities to visit Italy and the best hotels of our land. Receiving the orange flag means that Soave is able to offer its tourists important cultural events and quality facilities.